Dental implants in Greenwich
If you're looking for long lasting and affordable 'dental implants near me' from a highly experienced dentist, our modern Greenwich clinic can help you replace missing teeth.
Our expert team can replace missing teeth with top quality, natural looking dental implants - an effective and durable solution to restore both the functionality and look of your smile.
Why choose Greenwich Dental for your dental implants?
✔️ Over 250 5* Google Business reviews
✔️ Highly experienced team of specialists
✔️ Welcoming and modern clinic
✔️ Very competitive prices
✔️ Open late and on Saturdays and Sunday
✔️ Accepting new patients
✔️ Experts in nervous patients
Teeth implant prices in Greenwich
To keep this treatment is as affordable as possible, our implant prices are extremely competitive compared to other expert dentists in Greenwich, South East London.
Your treatment plan will also include a very accurate breakdown of all expected costs, usually starts from £2,900.
Single tooth implant are cheaper than bridges, yet for more complex cases implants can be considerably more.
What is a dental implant?
Dental implants are the most advanced way to replace a missing tooth or teeth. It is a replacement root usually made of titanium which is implanted into the jaw in areas where a tooth or teeth have been lost.
This then acts as a root and a replacement tooth can then be fixed to it in a similar way as a crown. Implants are currently the closest solution you will find to natural teeth.
Implants can be used to:
- replace one tooth (implant / crown)
- replace multiple teeth (e.g. implant and 3 unit bridge)
- replace all teeth (Same day / teeth in a day)
- support removable dentures
Although it is impossible to beat or replicate a healthy natural tooth, it is often reported by patients that implants look, feel and function like natural teeth.
What does the treatment involve?
Most implants are placed under local anaesthesia similar to that used for fillings or extractions. They are inserted into the jawbone after incisions are made in the gums.
After a period of time the bone into which the implant is placed will attach to the surface of the implant. A small metal pin is then fitted onto the implant upon which a final restoration in the form of a crown or bridge or over-denture is fixed.
The time required to complete implant treatment is different for each patient and depends on the complexity of the treatment and their individual treatment plan.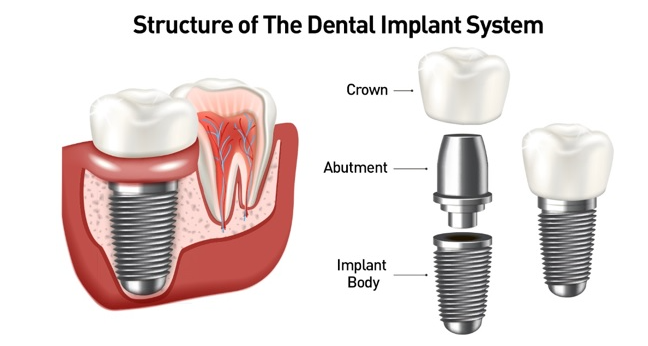 The benefits of dental implants
Dental implants are very stable and effective. The implant itself is a titanium screw that is used to replace the root section of a missing tooth. Fitted directly to the jaw bone underneath the gum line, the implant is designed to hold an abutment onto which a new crown can be fitted.
The resulting combination of implant and crown gives a very strong and natural looking result. Dental implants can be used to replace individual teeth, or they can alternatively be used to support a bridge to replace multiple teeth.
Example of single tooth implant before and after

Appointments for dental implants
Your dentist will initially examine your teeth to determine the best treatment for you. If dental implants are appropriate then we will explain the procedure and any implications involved with you, as well as answer any questions you would like to raise.
We will take X-rays and form a treatment plan for you. The procedure is spread over a few appointments. After the implant has been fitted to the bone in the jaw a period of time is required for the two to fuse securely together.
The abutment and crown are then fitted at a later appointment once the area has fully healed.
Please visit our fees page for our latest implant prices.
Looking for expert 'dental implants near me'?
For more information about dental implants or to book an appointment,
call 020 8858 1055 or send an email.